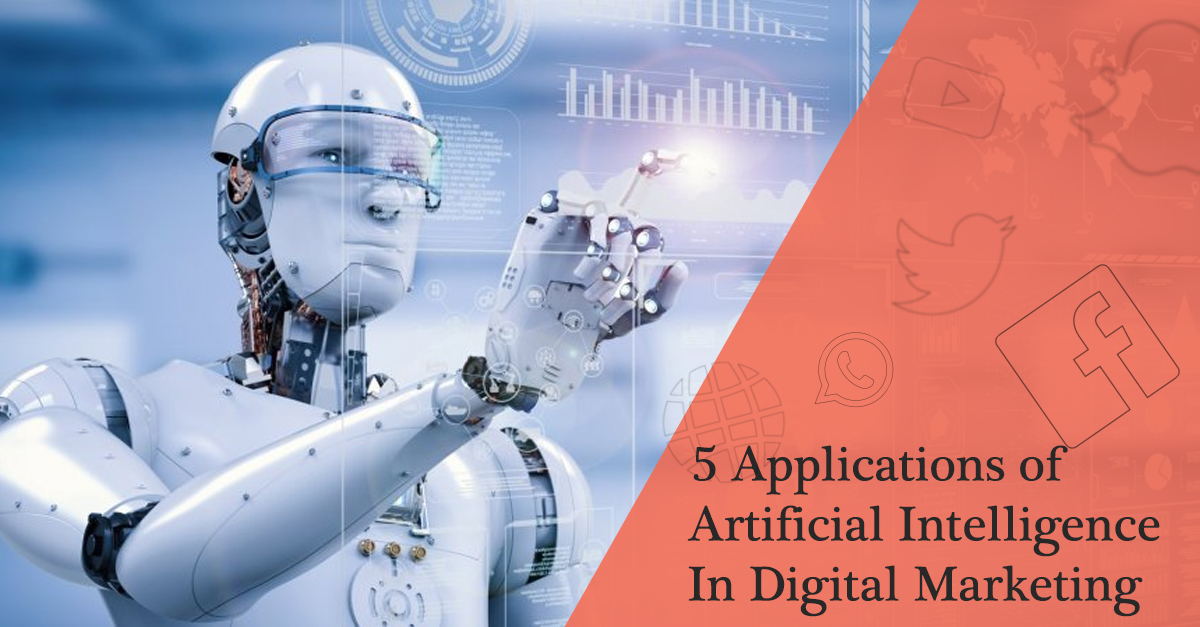 Artificial intelligence(AI) is taking the digital marketing industry by storm. The impact of artificial intelligence on the digital marketing sector is widespread. A few years ago, marketers were skeptic about using artificial intelligence in their business. Now, things have changed drastically, where artificial intelligence can predict customers every move, it is almost like reading minds.
Various reports and surveys say that artificial intelligence and machine learning will be widely used by all the industries across the globe in the coming year 2019. Technological enthusiasts predict that this greatest mark of artificial intelligence will even surpass the internet of things(IoT) and marketing automation software. This article will outline the current applications of artificial intelligence in the digital marketing industry.
#1 Content marketing(AI generated content)
Artificial intelligence can replicate the efficiency of a human and can do things like a human. It is astonishing to know that, a machine can create contents and writes by itself. With relevant data and information, AI can write news and reports, which can save lots of time & resources. AI generated contents can attract more visitors to a particular website and show them more personalized contents. Wordsmith, a natural language generation (NLG) engine, generated around 1.5 billion human-sounding articles.
#2 Email marketing
With the use of artificial intelligence, brands are delivering personalized email marketing campaigns based on their customer behaviors and preferences. AI also eliminates the need for A/B testing which has few errors and time-consuming. Hence marketers are able to deliver personalized email content for each subscriber. Machine learning and artificial intelligence analyze the customer behaviors, thereby finding the best time and days to connect with the users. It also predicts which email subject lines and contents generate the most clicks. Marketers have started using AI-powered email marketing software to kick-start their business and gained lots of customers.
#3 Digital advertising
Digital advertising is the area where artificial intelligence is successfully adopted. For instance, the Facebook ads platform is already using artificial intelligence and machine learning to deliver more targeted ads for the brands. Google ads platform is also on the game, that uses an automatic auction-based system. The AI analyses the customer's information, demographics, interests, and behaviors for delivering the best ads to them. With the advent of artificial intelligence, programmatic advertising has been widely used in digital advertising. Programmatic will account for the majority of all digital advertising spending with the next few years.
#4 Searches
The way people do searches on the internet has been drastically changed. Voice search and Google algorithm RankBrain revolutionized the internet searches and search engine optimization. Around 70% of the searches Google Assistant receives, natural voice command than traditionally typing on the Google search engine. For this, Google used AI to built its machine learning algorithm-RankBrain, to get more relevant searches. Recent innovations like Amazon echo, Apple's Siri, and Google Home allow users to perform searches with just a voice command.
#5 Chatbots
Chatbot powered by AI are now used in various industries to enhance their customer experience. Chatbots can answer open questions with its artificial intelligence while eliminating the need for a human assistance. AI-powered chatbots use machine learning and natural language processing(NLP) to deliver the correct response to the users. Chatbots save time and can respond to millions of customer queries correctly. Moreover, they can be used 24/7 with ease and hassle-free automation. Nowadays, many brands use chatbots to communicate with their potential clients.
Bottomline
Artificial intelligence is emerging as a new frontier of technologies that can replicate human intelligence. Incorporating AI for your business will generate targeted marketing, increased ROI, personalized user experience, and leverages search ads.