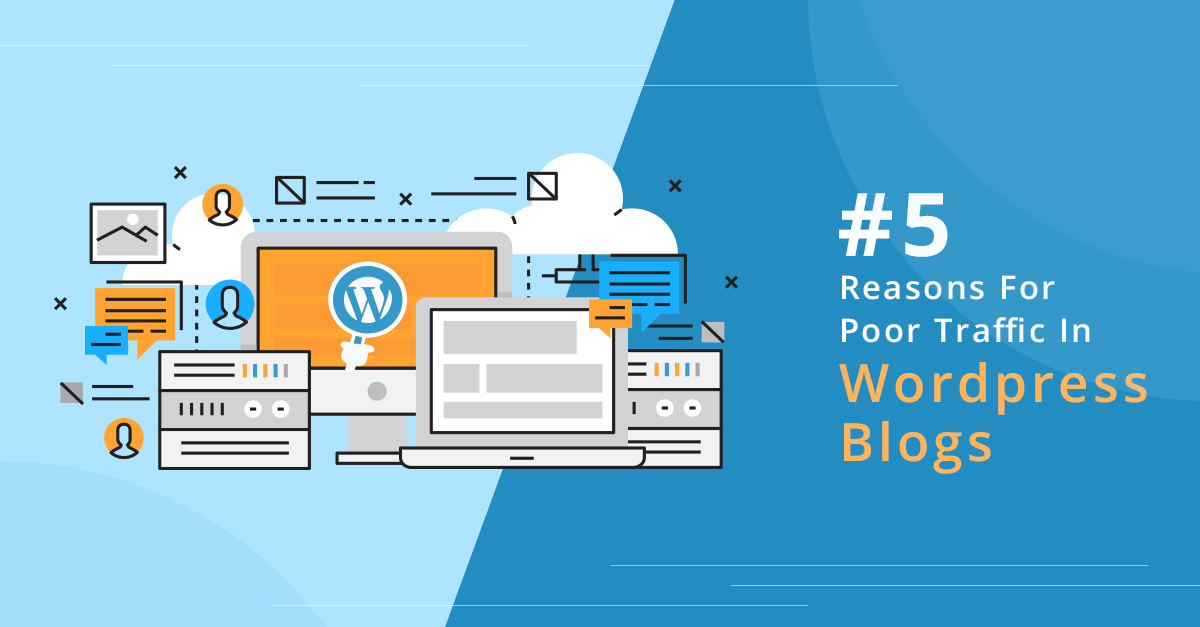 Creating compelling blogs to attract the eyes of your audience can be a tougher game. Crafting an impeccable blog takes time and earnest efforts. Once you have done with that and landed up with a great blog, there starts another task- Traffic! It is one of the essential lifelines for any blogger to survive online.
Driving traffic to your blog ain't an easy job. The layout, structure, and formatting are considered imperative for a blog to drive traffic. Even though you have done well, is your blog reaching your target audience? Gaining visitors don't count but getting targeted visitors is essential. This post will give you an idea where you are going wrong and how to rectify it.
Poor content
One of the main reason that your blog is lagging traffic should be due to poor contents. Who likes the same boring stuff? Instead, create blogs that are of top quality loaded with fresh and unique pieces of contents. Give reliable information relevant to your blog topic and the viewer should be able to perceive the purpose of your blog. No one will deny the fact that "content is king" and it should be the magic ingredient for your blog. Don't leave your blog bleak with lots of contents but add rich media to your post. Make your blog interesting by adding images, videos, infographics related to your article.
Not investing in SEO
It is significant that you write for your audience but you should also write for the search engine- Google. Only if Google loves your post others will also like your post. Therefore not doing SEO is yet another common mistake made by bloggers. It is essential to optimize your website and blogs to reach the first page of SERP's. For that, use the right keywords and give adequate attention to your meta description. Give appropriate article headline and URL structure. Add related links to other pages links to other pages on the internet. Use your heading tags- H1, H2, H3 and H4 in order and include valuable keywords in your heading tags.
Neglecting social media
Social media is one of the effective tools to drive traffic to your blog and many bloggers just ignore social media nor knew how to use them. Just dive into the networks and harness the power of social media. Share your contents with your friends and engage with your audience. Use Twitter, LinkedIn, and Facebook groups to drive more traffic to your blog. Give an introduction to yourself and post your blogs to the groups, communities relevant to your interest. Encourage engagement by asking questions and answering the queries of your viewers. You can also share live videos related to your blogs which make your audience more connected with you.
Inconsistency in posting
Yet another mistake every blogger do is posting blogs too frequently or posting rarely. This inconsistency can be a hindrance to your blog's traffic. Therefore set a clear strategy when to post your blogs and at what time to post. Blog frequently and regularly to catch up with your audience and by doing so you grow audience quicker. Stick to a regular consistent post schedule. Eventually, your viewers will love the way of your blogging.
Google Analytics
Many newbie bloggers are unaware of Google Analytics. This is absolutely a free tool provided by the Google. Bloggers don't realize the reasons for their lack of traffic unless they use Google Analytics. This tool provides you with the valuable information on from where your traffic comes and which sites are giving you high traffic. Installing Google Analytics you can have a clear view of which internet marketing strategies works well for you and the areas you need to improve. Tracking the results is significant for any blogger to win the game.