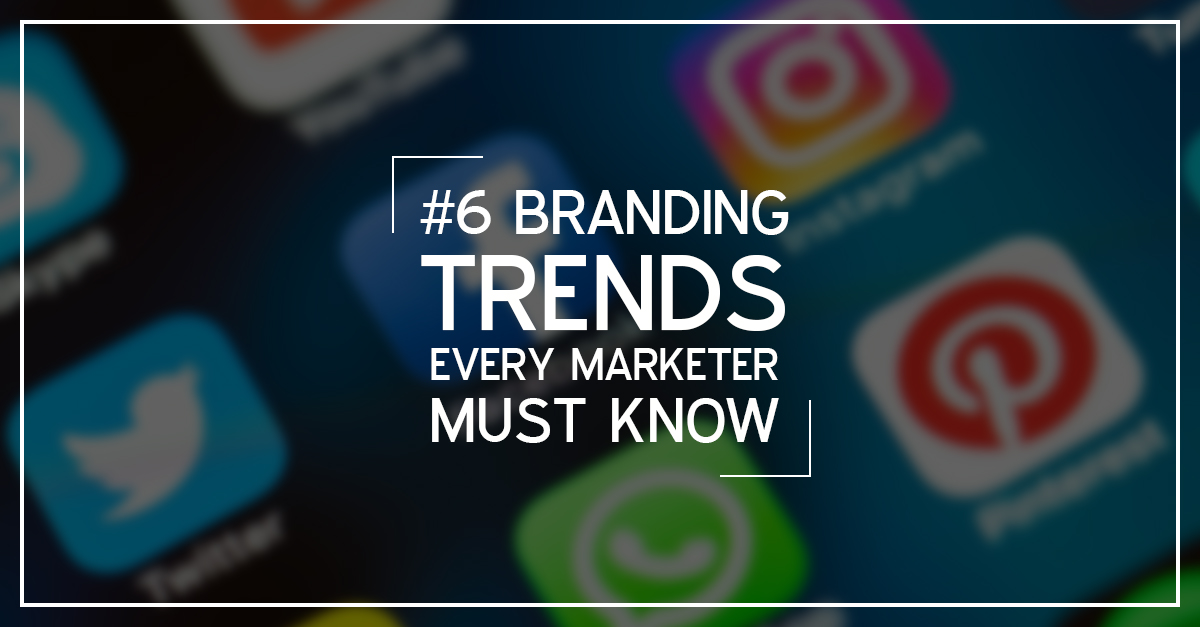 Branding is more than a logo and graphics component. A sound branding creates a passionate relationship with customers building reliability and credibility. In today's hyper-competitive market, a perfect brand makes a business stand out from their rivals. It is imperative to know that your brand resembles you! To be precise your marketing is your brand, your staff is your brand and branding is everything.
People eat brand, wear brand, think brand and promote a brand that they remember and love. Therefore a perfect brand helps customers to connect with a particular brand emotionally.
Branding like other niches is evolving at lightning speed. Branding is changing day by day. What worked last year, will not work this year. This article reveals the six branding trends that every marketer should be aware of.
Experiential branding
Experiential branding has the potential to create a direct connection and a strong relationship with customers. Experiential branding can be conceptualized as sensation and cognition to reshape the overall brand experience which will, in turn, build a brand equity. Companies are looking to create a long-lasting customer experience even before getting involved with them. For this reason, experiential branding is drawing the attention of global brands. This particular digital marketing trend is on the rise and there is no sign that this will end. The focus is to create a strong rapport with the customers and result-driven storytelling.
Custom illustration
A custom illustration will make a brand more memorable and interesting. Moreover, custom illustration creates a flair and creativity adding enhanced brand experience. Custom illustration remains as a visual branding tool that distinguishes a brand from their competitors. These beautiful illustrations create an artistic brand that reflects your business expertise.
Mobile First
Responsive design is trending now as "mobile first" is the talk of the hour. Mobile first has become the vital factor for customer experience. Therefore testing your website for responsive design is imperative. If your target audience is mobile-based this will provide a hassle-free experience for the users. Responsive designs will create an impeccable branding experience for both desktop and mobile users.
Bold palette and color transitions
Your brand should be compelling for the audience to get noticed. Brands have started using bold and vibrant color palette for more aesthetic appearance. Brands across the globe are adopting color transitions for a bold and striking look. For a better user interface brands prefer to choose high-contrast colors to lend a bold and visually impactful style. Leading brands are using these color transitions for a greater brand-customer experience.
Modular
Marketing in the years to come will need a modular layout especially if the client's desires are to be rise above. Moreover, modular layouts will provide extra functionality to the user interface (UI) designs. This has encouraged brands to investigate a consistent incorporation of pictures and social. This intuitive design process will draw contents closer and create a holistic visual representation of a brand.
Virtual reality (VR), augmented reality (AR) and 3D designs
The popularity of VR and 3D animations are growing at a rapid pace as brands are adopting these digital changes to create a lasting impression. Great social media networks are also incorporating virtual reality and augmented reality for the best customer experience. 3D, specifically, has risen as a novel method for introducing a story in a refreshingly extraordinary bundle to draw in with your group of onlookers who's desire for a true ordeal.
Wrapping up
These trends will give you a lead and direction for your business. It is very imperative to remember that trends are just trends. A clear brand strategy will generate referrals and huge traffic for a business. To conclude here is a famous wordings said by Jeff Bezos, Founder of Amazon.com,
"Your brand is what other people say about you when you're not in the room".