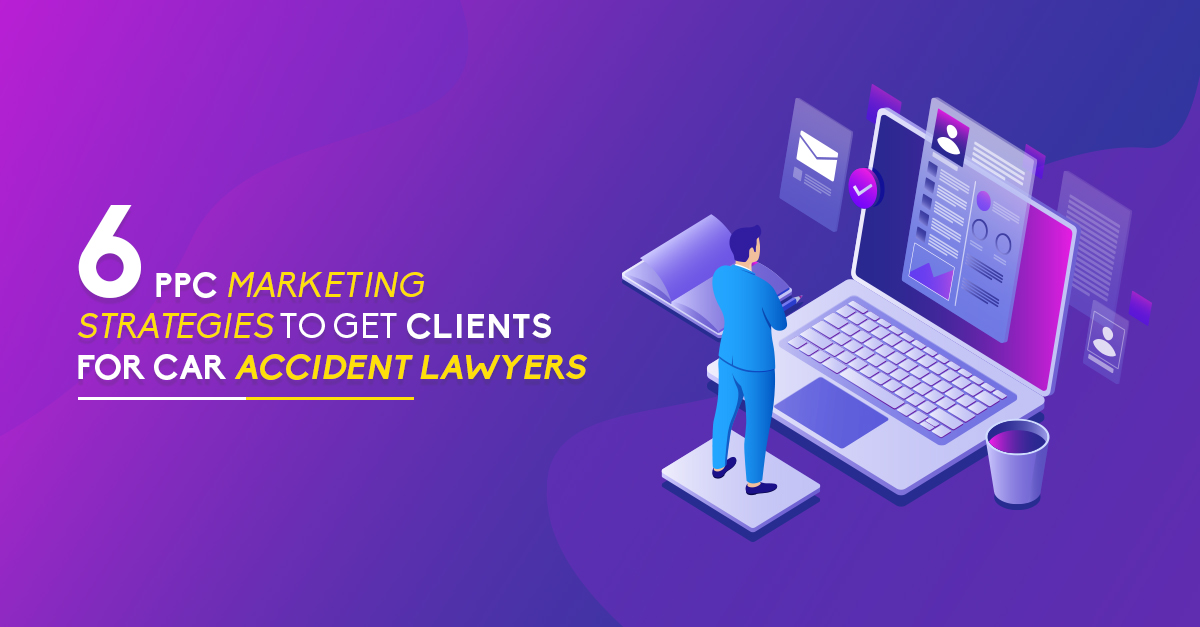 PPC (pay per click) marketing for car accident lawyers can be a daunting task. Clicks cost hundreds of dollars and it will ruin your budget if you do it wrong. Pay per click ads are a great way of marketing for lawyers and is extremely competitive in the legal field. Here leads are expensive and the most expensive keywords on Google are related to "auto accident attorney". At hundreds of dollars per click, it is imperative for a car accident attorney to have a sound search engine marketing that would place them in front of their potential clients.
Therefore optimizing your pay per click strategies is indispensable to connect with the right audience. Whenever a person encounters a personal injury, he or she surfs Google to search for the lawyers. Most of the auto accident lawyers don't know how to use the perfect keyword to optimize their PPC campaigns. If you are a car accident attorney and pondering to start search engine marketing for your law firm, then this article might be of your interest.
What is PPC?
PPC refers to pay-per-click ads. As the name implies they are Google ads that you pay for when your audience clicks on them. There are two kinds of ads- search advertising and display advertising. Search advertising is what you call PPC ads which are displayed in the top of the search engine result pages. Here the advertiser bids for ad placement in a search engine. Whenever a user clicks on your ad, you will be charged by the search engine as you get traffic to your website. The fee is moderate and is worth more than you pay as you get solid traffic to your website. For instance, if you pay $5 for a click, but the click results in $500 sale, this is a huge profit! Therefore PPC is one of the cost-effective ways to market your law firm that boosts traffic to your website ad improves conversions.
Why should law firms use PPC?
Why should I use PPC? This is a common question asked by many lawyers. This is because they are unaware of the potential of digital marketing and the quality leads & sales they get. The top 3 PPC ads in the search engine get 41% of clicks and that's a great way to send traffic to your law firm. What does this top 3 ad listing mean? Your competitors are using them and definitely, you should start using PPC. Another significant reason to use PPC is, you can control and manage the keywords you appear for.
PPC strategies for car accident lawyers
Use Google Keyword planner
Keywords are pivotal when it comes to set your PPC campaigns. Keywords can make or break your campaigns. It is imperative that you select the perfect keyword for your law firm that would send enormous clicks to your website. Legal keywords are expensive and should be diligent to use it. Many car accident lawyers are bewildered on how to choose the right keywords for their PPC campaigns. To resolve this, few keywords tools can suggest you the keywords. As Google is the most widely used search engine, you can use Google's keyword planning tool.
Google keyword planner tools provide you with two options:
Find keywords
Get search volume and forecasts
Find keywords help you with keyword ideas related to your industry whereas search volume and forecast provides the metrics and performance of your keywords. Now you can enter the word, keywords in the keyword planner screen.
Google will show you the keywords by relevance and its average monthly searches, competition, ad impression share, top of page bid low range and high range. You can enter a maximum of 10 keywords per search and you can also have the option to enter your website URL to get keyword plan & suggestions.
Target ads to geographic location
Geotargeting or local PPC is a feature that allows your ads to appear to customers in a targeted or specific location. Geotargeting enhances your PPC campaigns by increasing the clicks from people who are within your location or targeted area. The location you choose can be extensive- state, region, and country or as narrow as ten mile radius from your law firm. You can add this geotargeting feature in your Google AdWords campaigns. It will show up with options to select cities, states, country, and zip codes. The geotargeting feature has two target options radius and location. Radius option allows you to target customers within your miles, where you can enter a place, address and even street name. Hence your ads will show to the potential customers based on your location.
"Near me" is a common keyword that most of the users use to search for a product or service. In case of an accident, your clients are more likely to search for "car accident lawyers near me". Clients need instant services which are near them. This keyword "car accident lawyers near me" will definitely attract your clients to click them and increases your return on investment (ROI). Geotargeting also has an option to restrict or exclude a certain location allowing you to get the most out of your PPC campaigns. Location targeting helps your law firm to reach the right people and where your business can serve them.
Prioritize click to call
The ultimate focus of an auto accident attorney is to get calls from their potential clients. At this juncture, it is very important to anticipate the needs of a client. A client who met with an accident will not surf your website instead he/she will look to connect with you instantly. To make this process hassle-free for the client it is essential to add call buttons in your PPC campaigns. When it comes to car accident attorneys, a phone call is more than a click to a website. Search ads provide great features to optimize your click to call strategy. So what can you do to drive more calls? Here is what you do. Add call to action(CTA) buttons in your landing pages with awesome deals and offers that trigger your clients to call you.
Optimize your PPC landing pages
Presenting landing pages that get clicks and conversions are important. If your landing page is not impressive and does not contain relevant information that your clients are looking for, then you are losing the game. Every auto accident attorney needs to craft their website landing pages to entice potential clients. You can highlight what makes you special or different from your rivals in all your landing pages. Does your law firm has round the clock legal service or free consultation? You must showcase it. You can also include your case studies, client testimonials, videos and other pieces of information that are beneficial for your clients. Another important point is to make all your landing pages responsive and mobile optimized. A client who met with an accident is more likely to search for a "car accident lawyer" in his/her mobile. Therefore it is essential that your website is mobile responsive and optimized.
Call-Only Campaigns
Call-only campaigns are an effective way to get clients. This feature was rolled out last year by Google and got intrigued by plenty of Adwords marketers. In this campaign, the keywords(headline) are replaced by call-only, which allows the clients to call the advertiser instead of landing on their website. This ad format is a no-brainer for the client and it provokes him/her to directly call which will definitely increase your business bottom line.
Therefore you get a phone call with just a click of a button! It sounds awesome, right? You can also set your ads based on the time when your business can take a call. Eventually, you will not miss any of your potential customers.
Yet another striking feature of this ad is that these call-only campaigns are fine-tuned for mobile devices only. Hence car accident lawyers can make the most out of this campaign. Moreover, every call can be counted as conversion and can be tracked.
Call extensions
Call extensions allow you to add phone numbers to your PPC ads. This calls extensions makes calling easy for the client with just a tap on the call button. Here you can set the hours of operations and when you can take calls. Each tap counts as a click and is of the same cost as headline clicks. This call extension is a must for an auto accident lawyer and you should incorporate adding this feature in your PPC campaigns.
The Takeaway- "Know the Ropes, Learn the Ropes"
A successful PPC campaign requires sound strategies and planning. Long-tail keywords work better than generic keyword. A click can cost you $100 and you can't take your campaigns lightly. If you are a newbie to run Google Ads, learning the marketing tactics is essential to stay ahead of the curve. Car accident lawyers should incorporate geotargeting, click-to-call, call-only campaigns, adding call extensions and optimizing landing pages in their PPC campaigns to increase conversion and sales. Understanding the search ads algorithm and good PPC campaign practices can make a difference. Hope you are armed with the best PPC strategies to gear up your PPC campaigns!