In this law firm marketing guide we have put together 14 ideas that might help you and your law firm. Implementing these strategies can help you to acquire new cases. Overcome your challenges and make your law firm remarkable by practising these strategies.
Look at the ideas to market your law firm in 2020
Many law firms lack focus on digital marketing since they rely on traditional marketing that comprises ad on newspapers, billboards, ads on a magazine, radio ads, catalogs, filters and telemarketing. Spending a large amount to get impressions, and for value-adding placement is common in traditional marketing.
With the help of digital marketing, your budget can be segregated under distinct categories that will reach different audiences with various messages, resulting in improving the effectiveness of the overall law firm marketing strategy.
In online marketing, by spending some budget for advertising on Facebook, YouTube, Linkedin and remarketing you can bring more visitors to your website. The targeted views you receive in this method will be graded higher than the traditional mode of marketing. With advertising, you can monitor the performance, track and also can adjust accordingly.
BUILD AN ATTORNEY REFERRAL BASE
Building a strong referral base requires a period of time and it is based on how you cultivated it. Growing those relationships is a two-way street, particularly when it comes to establishing a referral network of other, non-competing attorneys.
This becomes impossible if you are seeking only your legal peers for referrals. It demands continuous contact and interest in their business since you are seeking the same from them.
Assess your Website's Performance
Assess your website's performance by checking whether everything works well. Checking the page speed is the first step since it is the high-value indicator for your website's performance. Make sure it works well since the load time has a huge impact on visitors.
The analyzed report will indicate the performance and also suggest some points to improve your website's performance. This page speed analysis score will allow you to understand the factors that lack and make you improvise your website and make you stand ahead of your competitors.
RUN GOOGLE ADS
Running Google search Ads can be done by anyone who is having a Gmail account, but it takes years of experience to run the campaign that performs well. Some lawyers used to run search campaigns but they halt it in the middle since they fail to see the results of what they want. Before running a campaign, make sure to include negative keywords and also have tracking to analyze which keywords drive leads.
Mark Your Footprint on directories
Many of the attorneys fail to indicate the main information like, in what they are specialized in, or in which location they serve. Cover these kinds of information on your site which is important for website visitors. It's also important to keep your website updated as well as mark your footprints on directories through which your clients will likely discover your business.
There are many law firm directories that have a lot of traffic for a variety of keywords.
So having listed in these directories will be a big start for your law firm. Make sure to be visible in each of the directories and also be strong to mark your presence in the directory that ranks for keywords which are important to your law firm.
Some of the directories we suggest for your law firm are:
Findlaw Directory
Justia Directory
Avvo Directory
Martindale Directory
Jurist Directory
HG Directory
The more places online that confirm your online identity to be perfect and accurate, the more reliable search engines will use your information. In turn, the search engine like Google will assist it back to potential customers that are seeming for things related to your law firm's specializations and the directories can be a great resource.
Your client may look for directories since it suggests the best lawyers based on the client's criteria.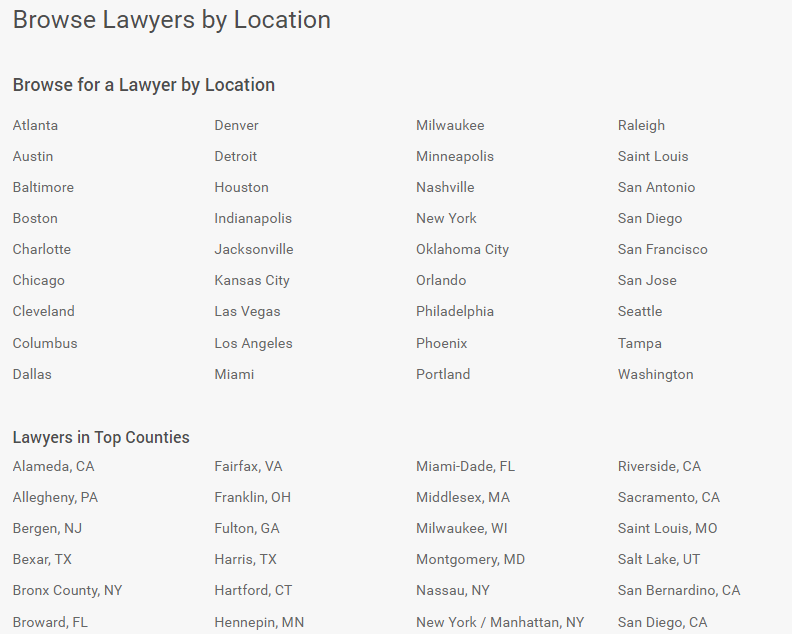 Rely on a Trusted Law Firm Marketing Company
Since there are many law firm marketing companies, make sure to rely on a company that has done work in the legal category. Do some quick searches to select a law firm internet marketing company that shows the success metrics of its past legal clients and hire the one who pays off. Checking their google reviews and tracking their record is recommended.
UPGRADE TO VISUAL AIDS
Your law firms can be sometimes boring or vast, due to high volume of text content required to cover the legal material. By incorporating innovative visual aids like photographs, infographics, images, or something else similar to visual will help the audience to share something valuable to their network via social media.
Interesting visual content will add values to the viewers, will increase the law firm's reputation and also encourage people to connect with your firm via Facebook, Twitter or other social media platforms.
Incorporate FAQ for Potential Clients
Incorporating FAQ's page on the website is a great way to acquire qualified responses from your legal team regarding the types of service they provide.
Voice search is becoming more relevant in search engine ranking and "Should I represent myself in a criminal case?" through a voice search on mobile can bring the targeted client to your website since you have already provided a direct answer to this question.
By giving an answer to your clients, they begin to relate your law firm's brand and build confidence in them. You can write for hundreds and hundreds of questions your clients ask for and get them indexed on search engines.
BLOGGING
Blog plays an important role in SEO strategy, particularly for the law firms. Google rewards for the sites that update the fresh content regularly. Including a blog on your law firm website will allow you to focus on your targeted keywords and you can rank the same using your blog post.As I mentioned earlier, the search phrase "Florida legal services" currently has 390 searches a month. You can use this term in your blog and even can write a blog on it to target your prospects.
You can also write a blog post on the title and even can include the geographical tags like "California", "Florida" or "Texas" if you are targeting for the long tail keyword like, "how to choose criminal defense attorney". If your blog post is clear about the particular topic, it tells how well versed you are on that topic and also it helps your audience to gain information resulting in engagement metrics.
You will have multiple audiences for your blog posts like potential clients, users who visit your site will read it, you can recommend to people who need this information, and you can share the blog post on social media and also can build the link to your article. Keep on updating the website with fresh content, paves a way to build the social audience and also keeps the google busy in crawling and indexing your page for the search terms you are targeting.
Another thing to consider in blog writing is long-form blog posts. One of the content marketing strategies is writing a quality long blog post. Recently, Search engines like Google are rewarding long-term content, so you can incorporate some blog posts covering all aspects you are willing to project to your audience. Try to write at least 2000 words in length. Some of the benefits of the long-form post include:
You will be positioned as an expert when your posts are long.
Long posts often rank highly and are more evident.
Engagement metrics by your audience will be more.
Social media shares will be more for the long-form posts.
Gaining inbound links for long-post will be comparatively more.
You can share information with the people who are new to the subject and also to the people who are aware of the subject as well.
In your long-form blog, you can include contents like FAQs, quotes, checklists, testimonials, reviews, videos of how to do and much more. Avoid using copied content on your site. You can check using the tool for the plagiarised content on your page at plagiarism checker. Your blog is where you can be powerful and be visible as a linkable asset. This is the place where other sites will link to yours, and it is important especially for legal SEO.
Add testimonials and reviews
Be sure to add testimonials and reviews to your website and say no to the shortage of "witness" on your site.
The website of Oykhman Criminal Defence law holds reviews of its past clients and also it has highlighted the numerical values and their location which makes them stand as a unique law firm, and nurture trusts in the mind of their prospects.
Including testimonials in a smart way allows you to rank for highly competitive keywords. Have a look on one of the websites where the review has involvement of high competitive keywords.
Local SEO for Lawyers
You should implement SEO strategies to draw your local prospects through Local SEO. Focus well on Local SEO so that you will be in front of your targeted prospects.
Implementing Local SEO for your law firm requires optimization of your specific locations. Suppose you work for multiple locations, then you should have a separate page that links to all the locations you serve. If you are more successful in this than your competitors, then definitely you will appear in top position than your competitors.
Here is an example of those search results. I had searched "criminal defence attorney new york", a map appeared which pinpoints the specific locations of the three high- ranking attorneys in local search.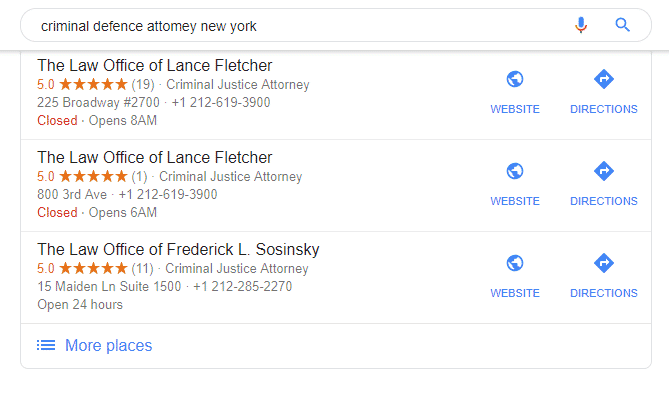 Optimize your website into Mobile Friendly & Responsive
Currently, the mobile website traffic worldwide has reached 52.2%. Mobile internet accounts for half of all global web pages served. Due to the strong growth of the smartphone market, people can share and access information on the go.
A mobile-friendly website is very essential for the user experience and search engine rankings. If your law firm's website is not compatible with every device, it will wreck the way your clients perceive your business.
Bounce rate represents the percentage of visitors who enter a particular website and leave. If your website is not responsive then the bounce rate will be higher than that of the responsive sites.
A bad bounce rate means your website is not user-friendly and the visitors can't spend quality time on your website.
High bounce rate implies that the website is not attracting visitors. To have a less bounce rate your law firm's website should be mobile-friendly and responsive.
Here is how you calculate the bounce rate:
Bounce rate = Total number of one-page visit / Total number of entries to a website
STICK ON TO SOCIAL MEDIA MARKETING
Social media marketing enables lawyers to join directly with prospects on floors where they are actively seeking solutions for their legal problems.
Successful social media sites include Facebook, Twitter, Instagram, LinkedIn, Pinterest, and Snapchat.
There are specific platforms that work great than others for law firms.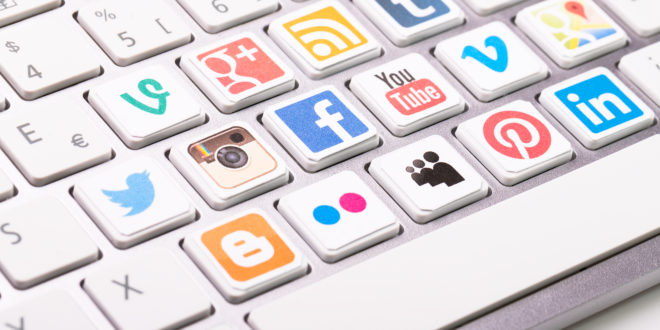 Facebook
Though Facebook traffic has been decreased in recent times, it has 70% of login and 43% of log in takes place multiple times.
These are the few ways you can use for Facebook paid promotions.
Work on promoting a blog post or facts related to a specific audience or demographics.
You can run a contest and afford them prizes that boost the engagement
Use Facebook to encourage low-cost lead magnets
Linkedin
Linkedin is a great platform which is widely used by many numbers of attorneys. It allows you to contact your network, organize them, nurture them and also can grow them. If you don't have a profile, then create one and participate in groups and discussions that are related to your law firm.
LinkedIn is the only influential social media platform for which usage is higher among 30-49-year-olds than 18-29-year-olds.
Twitter
Twitter supports attorneys to reach out and combine with prospects in a way that is unique. Law firms can stay visible and can be connected by answering questions, posting the article links that connect to your site.
Email Marketing
Email Marketing is one of the best ways to grow your brand and the way you can stay in the mind of your leads. You can use email marketing to showcase your business message. The message can be conveyed through a mix of graphics, links and texts that attracts people who never heard of your law firm. Emails generate 58% of revenue will be generated through email marketing according to the Direct Marketing Association.
Retargeting
Reaching out to your existing can help DOUBLE your number of leads at a fraction of cost. Retarget your visitors, before somebody else snatches your Prospects!
Remarketing for a law firm is a law firm's secret way to reconnect with the people who have bounced/exited from your website. Not all clients will fill the form or schedule an appointment on their first visit to your site, but they may be the potential leads. An efficient remarketing campaign can make these prospects to engage with us again and can boost the ROI of your digital marketing efforts.
Final Thought
Hope you are ready to kick-off with these law firm marketing strategies 2020 flawlessly for your law firm, but if you are back in the race of law firm marketing compared to your competitors who are performing well, then your spent time will be of no use.
Take a look at our services for you, which will reveal the fact that we are the best law firm marketing company to help you. Everything we do in your perspective and use to treat your sales like our own.
Perhaps if you have other legal marketing strategies that can be implemented in 2020 law firm marketing tactics, we'd love to listen to them. Comment below!
Marketing has been modernized, and moreover, consumers are surfing online for lawyers or attorneys.
Feel free to ring us for any queries or even for a free consultation that gives a way for client acquisition.