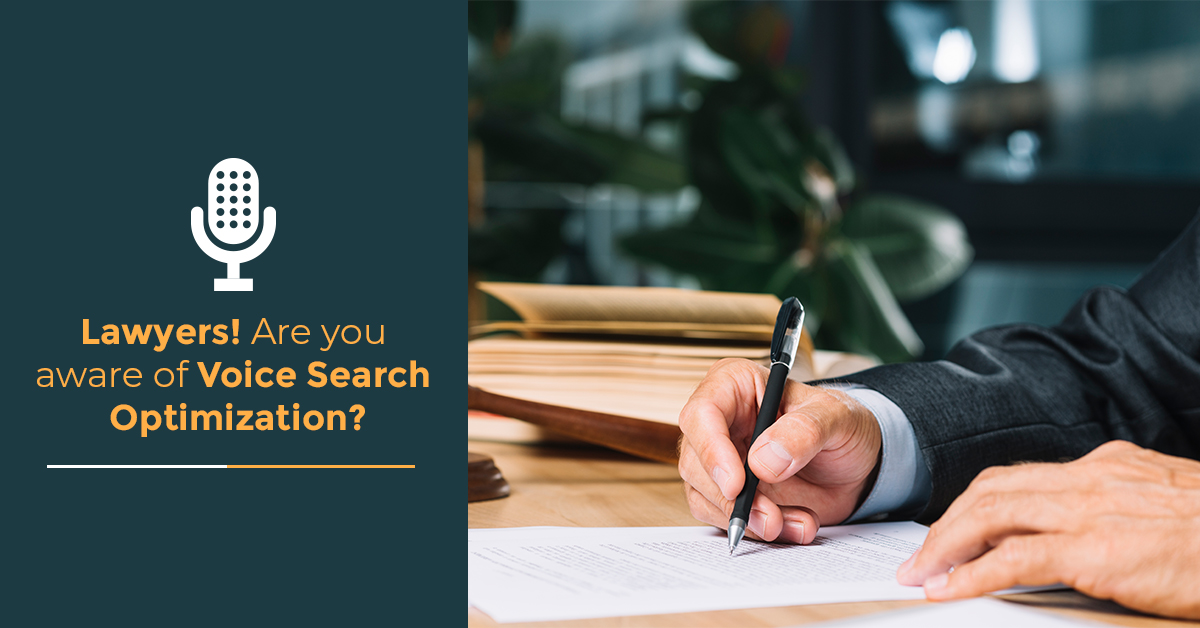 Lawyers! Are you aware of Voice Search Optimization?
Voice search began when Siri was introduced in 2011. It has come a long way since then with several voice-activated assistant devices being used on a regular basis. The voice search usage statistics by Google revealed that 52% of people keep their voice-activated speakers in their living room. This proves that people have started to use voice search as a part of their daily routine and it no longer is restricted to be used while commuting.
How voice search is different from traditional text search?
Voice searches are more conversational and interactive
Voice searches are more action oriented
Voice search is mostly mobile and situational – arising from a newly realized need
Reasons why people use voice-activated speakers:
It allows multi-tasking
It works faster than text
It provides instant answers and information
It makes daily routine easier
Here are the best practices to optimize your website for voice search
1. Use natural language
Since voice searches are conversational, the content of your website should be written in a conversational tone that captures the search engine. Shift perspective of writing content with the intention to provide information and move to answer people's questions. It is essentially doing the same thing – solving the customer's problem, but in a way that the search engine picks up your website's text to the searchers.
2. Use words that lead to action
Since people intend to take action after performing a voice search, choose the right words in your content. This begins by understanding that traditional text search is done using one to three keywords, voice search is usually done in a sentence. You could brainstorm to figure out the action-oriented keywords that the searcher is most likely to use. These words will be your keywords based on which the content is optimized.
3. Add context to your content
Schema markup is one of the most important components that helps a website rank in voice search. It is the vocabulary that the search engine uses to understand the contents of a web page.
The key to voice search optimization is making your content as relevant to specific query as possible because voice search returns only one answer. So it is the best-optimized result that will come up for a searcher.
4. Structured data optimization
Few pointers to work upon are,
Making your web pages easy to crawl – Create a sitemap and submit it to Google Search Console
Help the Google bot to understand your content and it's relevance –
use Structured data (schema) markup to create metadata for your content. It tells Google to understand what your content is about, without altering to the reader.
Use Google's Structured Data Testing tool to check your work
Submit a new sitemap to Search Console
5. Optimize for local searches
According to a recent survey conducted by BrightLocal Study, voice searches are mostly local. Here are the stats,
58% of consumers use voice search to find local business information last year
46% of voice search users look for local businesses daily
27% visit the website of a local business after conducting a voice search
76% of smart home speaker users conduct local searches at least once a week
You can optimize for local searches by,
Claiming your business listing using Google My Business
Developing content that answers location-based questions
Monitor reviews received on Google, Yelp and other review platforms
Encourage your customers to review your business
6. Optimize for position zero
When users perform a search, sometimes Google shows up the answer on the search engine results page. It does not require the user to link on one of the results to move to another website. The text shown as the result is a featured snippet.
A featured Snippet appears above the first position on the results page, hence termed as position zero.
Some digital assistants tend to pull all the answers from featured snippets. So it is important to write content to optimize for the position.
Best practices to be followed are,
Write content that is concise, engaging and answers questions
Use a conversational tone
Include long-tail keywords
Identify common keywords used by searchers and include them
7. Mobile friendly is voice friendly
25% of all the voice searches are via a mobile phone.
You can optimize for voice searches on mobile by,
Improving website speed
Page speed is a mobile ranking factor because users expect quick results while looking for information on-the-go.
As per the analysis by Backlinko, voice search results load 52% faster than average pages.
So improving website speed is helpful for both the search engines and users.
Use AMP & structured data
Structured data makes content easy to summarize and consume in search engine results page on a mobile phone. It also makes content relevant to voice search results.
AMP helps to have Actions on Google app. AMP optimized web pages are prioritized in mobile search results.
8.Work on FAQ section on your website
Conduct an extensive study on the questions that legal customers ask. Use tools that help you get information on the search terms used and look upon it frequently. Update your database on the keywords used and the questions searched for. answer those very questions on your FAQ section.
You could also check with your existing clients and prospects to learn what information they were looking for when they landed on your website. This would give you first-hand information.
The more real-time data you have, the better you will be able to develop information for the FAQs. This might be a time-consuming task, but it is the very foundation based on which all the content is generated.
9. Be ready for future developments
The above mentioned 8 best practices are in accordance with the latest Google algorithms and consumer behavior. Google, Amazon and Microsoft are currently the major players in the market-dominating devices for voice searches. With developments in technology, more features and devices would come into pictures to aid voice searches.
With the increases in voice search usage, Google is planning to add voice query data to Search Console. Once this comes into the picture we will have actionable, personalized insights on the users of voice search.
Last Line:
Voice commands are poised to have a big impact on search marketing. Incorporating these best practices and law firm strategies will help in driving traffic and increasing sales.