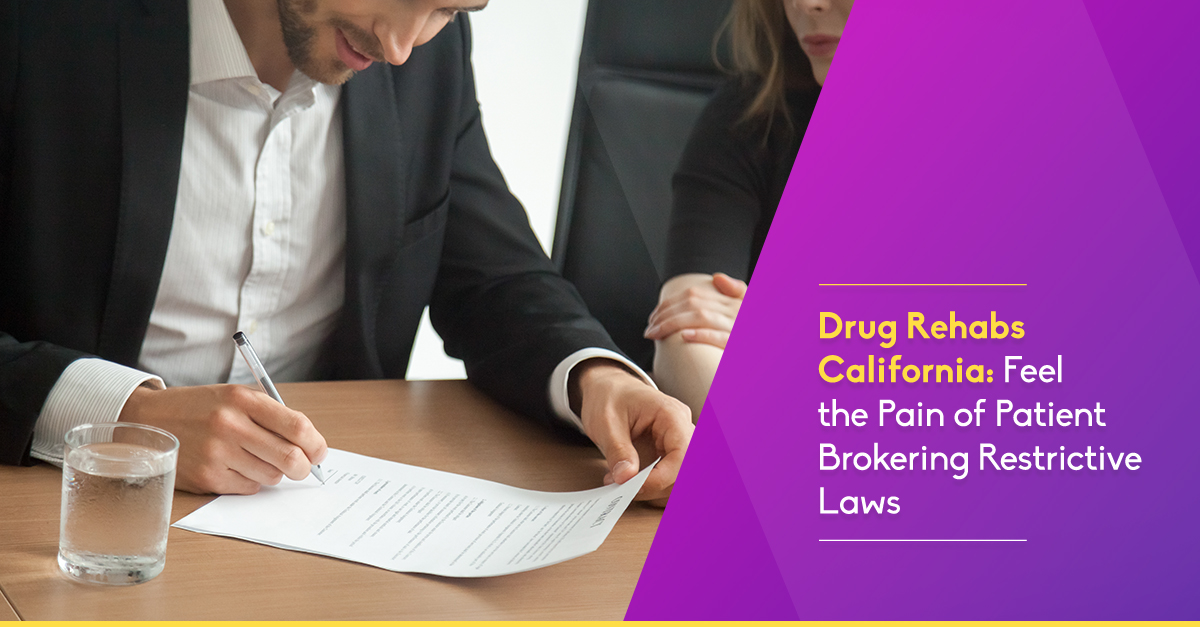 California's new restrictive laws against the infamous patient brokering scheme, or body brokering as it is also known, curtail the efforts of shady operators trying to prey on people with opiate addiction.
In rare bipartisan legislation, the state of California has decided to adopt the highly successful "Florida model" that had set new standards for the addiction treatment industry. The drug rehabs California are prohibited from practicing patient brokering and trafficking since September 2018, per the California Statute SB 1228.
What Is a Patient Brokering Scheme?
For the uninformed, patient brokering is an unscrupulous act of drug rehab and addiction treatment marketing that is rampant across the U.S. for many years.
In simpler terms, when an addiction specialist or an employee of the California inpatient drug rehabs refers the facility to a person with substance abuse, in exchange for monetary gains or any kind of promise, that is patient brokering.
Receiving cash kickbacks for sending patients to specific rehab centers can be considered a type of human trafficking. California inpatient drug rehabs and those in the entire country were in the habit of conducting these fraudulent practices, which accounted for profits of tens of millions of U.S. dollars annually.
Patient Brokering: The Vicious Cycle That Traps the Vulnerable
While ethical addiction treatment centers and California drug rehabs can now remain untainted by this sinister act, there is more to learn about patient brokering. As if being addicted to opiates is not painful enough, there are plenty of people from all strata of life who prey on the vulnerable.
Body Brokers
These body brokers buy the patients and sell them to the rehabs that offer them the highest bid. Insurance fraud is tied into this scheme as the patient brokers are in search of people who can afford premium policies. Since such substance abusers are hard to find, these brokers land a prospective patient and take the policy in their name.
The rehabs pay the premium until the insurance becomes active, and then they exhaust the benefits. Once done with this fraud, the rehabs usually kick the patients out and the victims of patient brokering, nowhere to turn to, are left homeless in a sense. On the other hand, the patient brokers enjoy a profit of $500 to $5,000 per referred patient.
Recovering Addicts
The persons who benefit from this practice are not restricted to those connected with the rehabs, but alumni of the treatment center also take part in making profits.Recovering addictsthemselves turn into patient brokers who partake in this appalling practice for kickback money.
Newly sober addicts get out of the treatment and pounce on other recovering addicts and make them the clients of the rehab they just left. Even if the addicts who go through relapses often are not authorized into California inpatient drug rehabs for the higher levels of care, they were being welcomed by sober living residences and intensive outpatient treatment (IOP) facilities.
Quick Facts on the Opioid Epidemic in the U.S.
Around 53 million Americans over the age of 12 were illicit drug abusers by 2018.
About 4 to 6 million abusers pertained to opioids, whereas, just 1 in 10 people received treatment for substance abuse disorder.
The U.S. opioid epidemic has reported the deaths of at least 130 American residents every day.
The opioid overdose deaths are projected to grow from almost 33,000 in 2015 to a staggering 82,000 by 2025.
Patient Brokering VS Drug Rehabs California
While the lawmakers in the state have used the Florida model for the new drug rehab marketing legislation, California has begun to implement more severe ramifications. The governing body for California drug and alcohol rehabs has already put up a list of substance abuse treatment centers that have been issued a Temporary Suspension Order for violating the patient brokering law.
Intensified penalties for patient brokering include:
License revocation or suspension of the rehab or addiction treatment center for 18 months.
No chance to reapply for a license within 5 years of the previous revocation.
Revocation of the certification or registration of the counselor.
Revocation of the certification for alcohol or other drug addiction treatment program.
$2,000 daily in penalties for running unlicensed facilities or programs.
Licenses cannot be reapplied within 5 years following the previous revocation.
Some of the entities prohibited from making patient referrals:
Owners, partners, and shareholders with a minimum of 10% interest in the certified or licensed alcohol or drug program.
The DHCS (California Department of Health Care Services) licensed residential drug rehabs California.
DHCS-certified California outpatient drug rehabs and addiction treatment centers.
Employees and people working for rehabs and related organizations.
Bottomline
Drug and alcohol addiction recovery is a sensitive matter, both for the victims and their loved ones. Hence, you must seek an ethical drug addiction treatment center in California. Beware of exploitative drug rehabs California that practice or promote patient brokering.